Counter-Strike: Source Offensive v1.0
Counter-Strike: Source Offensive v1.0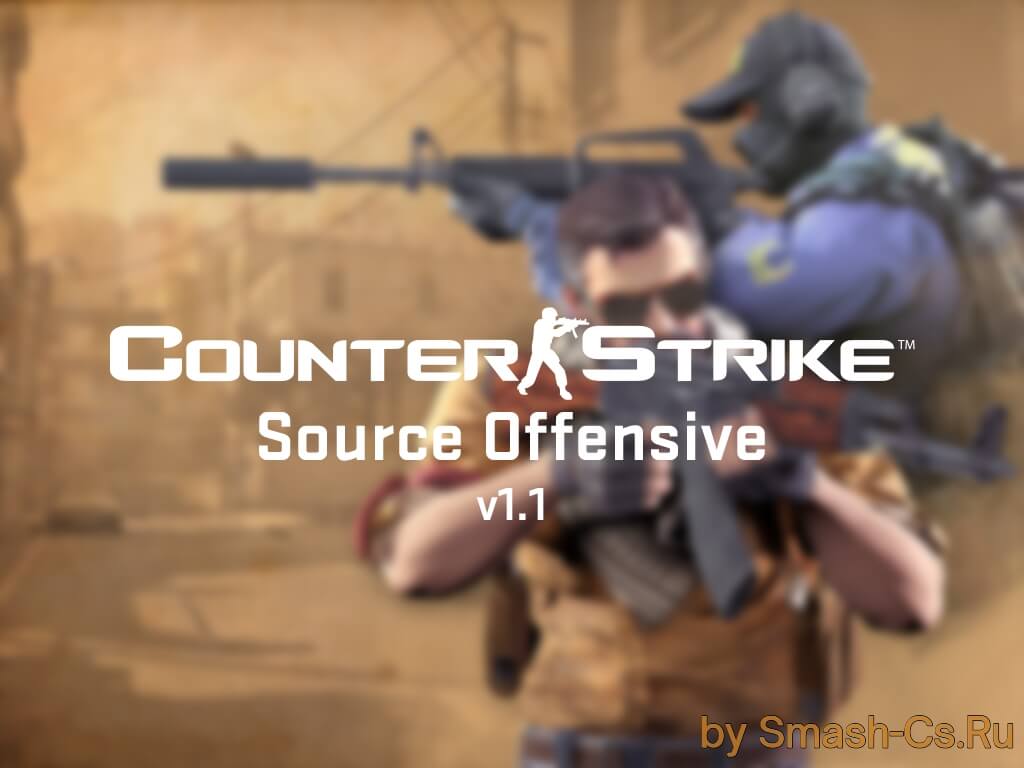 What is CS: Source Offensive?
This is a mod for Counter-Strike: Source that turns the game into CS:GO, transferring to it not just weapon models and players, but a HUGE number of mechanics, such as:
- Shooting like in CS:GO;
- Panorama interface;
- Ability to choose any agent, knife, gloves right in the game;
- Many modes from CS:GO;
- Inspection of weapons;
- A huge number of maps (almost fifty!);
- AUG/SG aiming like in CS:GO;
- Ability to take control of bots;
- Ability to change your equipment (HKP2000/USP-S, M4A4/M4A1-S, etc.);
- And a huge number of small and big changes.
ATTENTION: if you have the previous version (1.0) installed, download from the second link so as not to download the whole mod again! If you don't have 1.0, download from the main link!
This update mainly brings changes to the engine and fixes of numerous bugs, both graphical and gameplay, and of course, more optimization!
WHAT'S NEW:
- Particle system from CS:GO
- Resource caching system from CS:GO
- Decals and hit effects from CS:GO
- Demo view panel from CS:GO
- Post-processing from CS:GO (postprocess_controller, env_dof_controller)
  Use commands mat_postprocess_enable, mat_dof_enabled, mat_motion_blur_enabled to configure
- New maps: Anubis, Blagai
- New shader: Lightmapped_4WayBlend
- Seven new music kits from one of the latest CS:GO updates
- New parameter for weapons: "InaccuracyJumpApex" (used only by Deagle) - determines the inaccuracy of the weapon at the peak of the jump
- Rechargeable taser (mp_taser_recharge_time)
- Support bodygroup preset (bodygroup presets)
- New console command: ff_damage_decoy_explosion - determines whether decoy grenade explosions will damage allies
- Added value 2 to the sv_damage_print_enable command - the damage dealt will be displayed in the console only after the end of the round
- Players who turn too fast when defusing a bomb will now stop defusing (mp_c4_turning_fast_penalty)
- Button to cancel changes in the settings of the crosshair (returns to the settings that were when the menu was opened)
- Radio menu (similar to the chat wheel from CS:GO)
- Ability to create dumps outside of Steam (launch option -nosteamdumps)
CHANGES:
- Changed the number of rounds on M4A1-S in accordance with the current version of CS:GO (in clip: 20, in stock: 80)
- Updated code compiler suite to VS2015, which may affect people with VERY old versions of Windows
- Updated font renderer from standard Windows renderer to FreeType
  (custom fonts can use the "oldrenderer" flag to use the old renderer, see c4panel.res for an example)
- Updated round loss reward algorithm to match CS:GO (added mp_consecutive_loss_max and mp_consecutive_loss_aversion commands)
- Money received in the current round can now only be spent in the next round
- Bomb logic will now calculate every tick when it is defusing or close to exploding
- Tracers now spawn on the first shot, making them visible from sv_infinite_ammo 1
- viewmodel_recoil (recoil of hands) now works identically to CS:GO
- fov_cs_debug now accepts non-integers
- The title of the list of players in the scoreboard will now always be displayed
  (previously it only showed up if someone was playing in casual modes, or if someone was playing CT in standard modes)
- Kill bar now uses SVG instead of fonts for icon rendering
- Now voice_enable 0 will not completely disable the voice codec, instead the voice_system_enable command has been added
- Now commands that have a timeout can be executed once every 1.0 seconds, instead of 0.3 seconds (for example: jointeam, joinclass, spectate)
- Slightly updated icons for old agents and CT agents in overalls (generated in CS:GO)
- More optimizations
FIXES:
- Fixed broken voting system
- Fixed unrealistically bright HDR (only took 2 years...)
- Fixed an issue where the number of bots option on the server creation panel didn't work
- Fixed random crashes related to particles
- Fixed random crashes related to the buy menu
- Fixed incorrect location of the list of observers in the scoreboard
- Fixed an issue that caused the server options in the server creation panel to not work in languages ​​other than English
- Fixed broken texture inside 3D skybox on Vertigo
- Fixed an issue where slot numbers on the HUD were not visible on resolutions with aspect ratios other than 16:9
- Fixed incorrect notification text when unpausing the game
- Button 0 (slot 10) now works correctly on VGUI menus (similar to radio menus)
- Fixed an issue that caused grenades to disappear from the weapon menu even when the player had them
- Shotguns will no longer continue to reload if removed and re-drawn
- Fixed an issue that prevented bots from opening doors with old models (for example, on old maps from CS:S)
- As a result of updating the code compilers, the in-game file selection window now supports Windows symbolic links
- Fixed incorrect weapon name in the buy menu for weapons that share one slot with another (USP-S, M4A1-S, etc.)
- Fixed missing flash grenade stun effect
- Fixed graphical artifacts on the Character shader (for example, on player models)
- Fixed incorrect skin (skin color) of gloves in the purchase menu or the team / faction selection menu
- Fixed broken bottle machine material on Office
- Discord RPC now correctly displays the address of the server you are playing on
- func_nav_blocker now works correctly (now bots will not poke into closed places in "Wingman" mode)
- Fixed incorrect sizes of some pipe models (of those seen: Nuke, Shortnuke, Thrill)
- Map color correction now works (entity "color_correction")
SPECIAL THANKS:
- Technical assistance:
     DeadZoneGarry
     reg1oxen
- Testing:
     DeadZoneGarry
     Grenkus
Similar mods for CS:S